Jul
20
With smart phones dominating the news, whether that is the iPhone, the new HTC 1 concept phone, Verizon's Droid, etc. mobile technologies need to be at the forefront of marketing strategies. This is no exception in the banking world.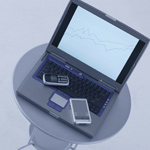 With stats that 32% of U.S. consumers considering using mobile banking in the next year and a projected 50% adoption rate in the next five years, it's clear that consumers already have a level of confidence in the technology. What we need to ensure is the focus when generating new mobile banking apps is that they seamlessly integrate with existing mobile behavior.
In early June, I attended the Mobile Banking & Emerging Applications Summit in Las Vegas (June 6-8). Some key takeaways in regards to how mobile banking can benefit your business include:
Ability to acquire new customers
Improves acquisition
Will bring in more profitable clients
Great retention tool
Cost savings
Allows you to grow traditional footprint
One general theme was that new mobile banking apps must seamlessly integrate with existing mobile behavior in order to provide the most value to the consumer. I think this can be applied in a larger scale to all mobile marketing as well. For any value-adding app that a company is looking to create, we need to look at the ways customers are already using mobile devices and apply our strategies and methodologies to that.
In an upcoming blog post, I plan to review a number of mobile banking apps, including what works, doesn't work, seems to provide the most value to the customer, etc. Are there any you prefer?