Sep
14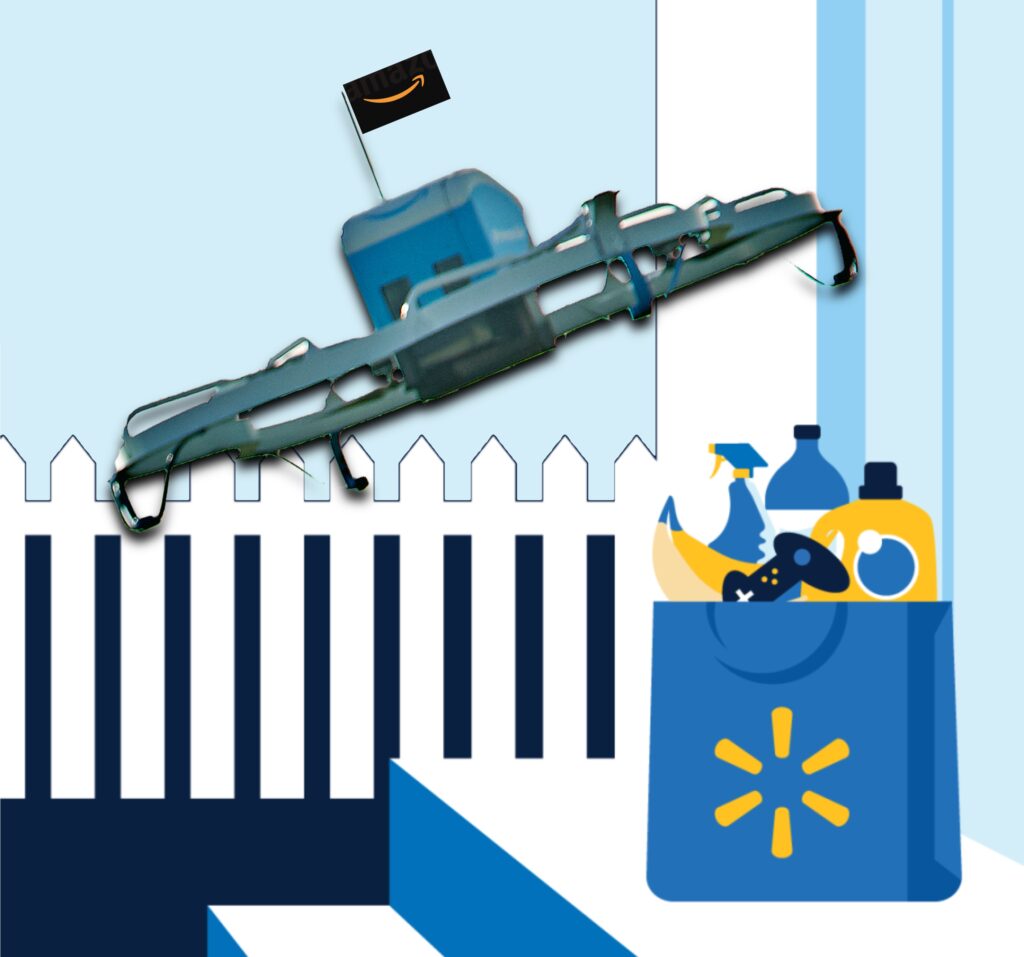 Here's how PYMNTS.com describes Walmart Plus*, Walmart's new delivery program, set to debut tomorrow:
For $98 annually or $12.95 a month, members will receive unlimited, same-day free delivery, Scan & Go on the Walmart app that allows customers to scan their items as they shop and pay with Walmart Pay for quick and touch-free payments and a 5 cents discount on gas.
Feature for feature, Walmart could well have branded the new service "Walmart Prime" were it not for pesky trademark laws. After all, Amazon Prime is similarly priced at $12.99 a month or $119 a year and promises a similar lineup of benefits:
Unlimited Two-Day Shipping on over 100 million items and One-Day Shipping and Same-Day Delivery in over 10,000 cities and towns as well as 2-Hour Delivery with Prime Now in select cities.
There are, however, notable differences between the services.
Notable differences
Prime offers an advantage in the form of access to Prime Video and Amazon Music, whereas Walmart Plus has no analogous offering.
Yet Walmart Plus offers advantages of its own. Same-day delivery tends to be the exception for Prime, depending on where you live, whereas it promises to be largely the rule for Plus. Walmart is better equipped than Amazon to pull off that benefit because, no matter where you live, you can probably throw a stick and hit three Supercenters and a Neighborhood Market without aiming.
And Walmart has the advantage in grocery deliveries. Walmart offers a vast selection of groceries, whereas Amazon Pantry's selection is limited. Although Amazon acquiree Whole Foods Markets offers free, same-day home delivery with $35 minimum, availability is tied to its 487 U.S. locations, whereas Walmart's 4,674 U.S. locations—each a virtual local warehouse—are all but everywhere.** Walmart is known for low prices; Whole Foods, not so much.
Yet for Walmart, being the low-price leader may be a two-edged sword. People attracted to Walmart's low pricing may balk at paying $12.95 a month plus tip for the privilege of shopping from home. And, like Whole Foods, Walmart requires a $35 minimum purchase for free delivery.
Heading off Amazon
Walmart is wise to take on Prime at this time, even though, according to the National Retail Association, Walmart's $510 billion in annual revenue makes it the world's largest retailer. Amazon is its closest threat, coming in at a little under half that amount, a mere $233 billion. (A distant third place goes to a German discount grocer not familiar to most Americans, the Schwartz Group, with $123 billion, a little more than half of Amazon's revenues.)
So Walmart has quite the lead. Nonetheless, as I have noted before in this space, giants can topple—think Sears, WordPerfect, Kodak, or Motorola. Even if you happen to be Walmart, it's wise not to engage in laurel-sitting.
Moreover, home delivery is no longer the wave of the future, but the wave of the present. With a worldwide pandemic still afoot, people who can stay home are advised to do so. Retailers who cannot accommodate a public loath to show up in person must surely fail.
Is it a bird? Is it a plane? It's an Amazon drone!
There's no disputing that Amazon has led the world in home delivery. And now Amazon is ready to blaze new trails—that is, new airways. CNN reported on August 31 that Amazon is at last ready to "launch" its long-awaited drone delivery service:
Amazon received federal approval to operate its fleet of Prime Air delivery drones, the Federal Aviation Administration said Monday, a milestone that allows the company to expand unmanned package delivery. The approval will give Amazon broad privileges to "safely and efficiently deliver packages to customers," the agency said … [giving] Amazon the ability to carry property on small drones "beyond the visual line of sight" of the operator. Amazon said it will use the FAA's certification to begin testing customer deliveries.
The eventual goal, Amazon Prime Air VP David Carbon told CNN, is 30-minute deliveries.
I cannot help wondering how Amazon plans to deal with dogs that love to chase moving objects, which is most dogs. Surely Carbon and his crew have thought that one through; but it's not hard to envision alert Labrador retrievers joyously snatching drones from the air and gleefully burying them in the backyard.
Whether delivered by van or drone, I am all for the growth of home delivery. No matter which retailers lead, the payments industry always wins.
---
*A day or two later, an ad for Walmart Plus showed up in my Facebook feed. Walmart's joining other advertisers in boycotting Facebook for the latter's refusal to fact-check political ads was, apparently, short-lived.
**Source: Data company ScrapeHero. See https://www.scrapehero.com/whole-foods-market-locations/